arrange for us to magically appear at your Party
Call us at (909) 328-8245
Or, email us at clintoncombs@gmail.com
Please sign up for our mailing list to be notified of future ticketed events.
your hosts
Clinton Combs is a Magician Member of the Academy of Magical Arts at the world famous Magic Castle in Hollywood, CA, and he is an Ambassador for the McBride Magic and Mystery School. He is also a philosopher and author of Beyond Metaphysics. He has a MA in Philosophy and is a PhD Candidate in the Philosophy of Religion at Claremont Graduate University in Claremont, CA.
Delores Abdella Combs writes poetry that touches the heart. Her "Soft Words" style has captivated coffee house audiences and she has been the featured reader on KPFK radio and her work has been played on KSPC. She has a BA in Creative Nonfiction from Pitzer College in Claremont, CA and an MSW from the University of Southern California.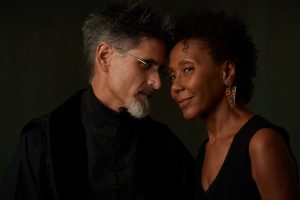 "Philosophy begins in wonder. And at the end, when philosophic thought has done its best, the wonder remains."
–Alfred North Whitehead